Managing Director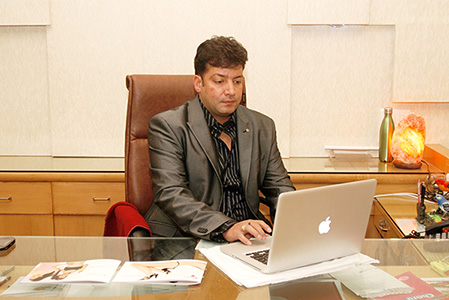 Mr. Sanjay Dawar speaks on his brand 'Bodycare'
Bodycare – the much – acclaimed Inner Wear brand from the house of Bodycare Creations Pvt. Ltd. Having boosted inner comfort in style as well as added colour and style to intimate wear now come a way with another interesting comfy-luxe story in its inner.
The innerwear industry in India has undergone a lot of transformation and achieved new dimensions. As per some studies the lingerie industry in India was worth Rs 79 billion in 2009 and is expected to touch Rs 183 billion in 2014. This has attracted numerous brands , both indigenous and global to jump into the bandwagon . The industry today has got a new facet with growing number of working women, increasing disposable incomes, fast changing fashion trends, awareness about fits, brands, colours , quality, style and the entry of a large number of global brands. Indian women too have become more choosy with lingerie and have moved beyond the over sensitivity to pricing.
Excerpts….. from an interview with Sanjay Dawar, Owner, Bodycare Creations Pvt. Ltd.
What propelled you into the business of Innerwear?
We have been in this business for the past 25 years. However, before this venture, we were only into local fabrication jobs and this helped us in learning the ins and outs of this business. We started in the 1992 with the name M/S 'Bodycare Creations Pvt. Ltd.', manufacturing innerwear under the brand name. Today, the brand name , 'Bodycare' is a well known in the innerwear industry across India and abroad. We are constantly updating our designs and have gained sustainability in the mid – segment.
Brand Bodycare was launched in 2008
It caters to the innerwear requirements of men, women
It constantly updates designs and has gained sustainability in the mid-segment
Aims to introduce infant-ware in the future
Is distributed In the Middle East countries
Plans to increase its global footprint
What is your brand philosophy?
The brand name itself indicates that we provide immense comfort and value for money. We strive to meet the diverse needs of our customers by innovating and are committed towards offering fashion, quality and comfort at an unbelievable price. Bodycare has made its name as a reputed manufacturer, and supplier of a diverse range of garment for both women and men .Our collection include: women's wear and undergarments, and men's briefs. The garments collection is known for attractive designs and is available in a variety of colours and sizes.
What is your brand profile?
We specialize in stylish and intimate innerwear, and provide a complete lingerie solution with products that include bra, panty, camisoles, shorts, bikini, leggings, Capris etc. We also provide some utility products such as tummy control panty, feeding bra, maternity panty and Teflon coasted sanitary panty. About 15 to 20 bra designs are offered a year, and 15 to 20 panty designs a week. Fashionable lingerie will always be introduced in future . New product categories like infant wear will be added.
How has the Innerwear business evolved?
Innerwear has slowly come out of the closet. About a decade ago, the subject of lingerie was discussed in hushed tones. Today, the scenario has changed. People are comfortable talking about it and purchasing intimate wear is quite common. Brands selling undergarments are gaining popularity and awareness. Consequently, innerwear brands are going full throttle in making their products visible and tempting. It is safe to say that currently, intimate apparel is a strong business segment in India, vying for a good part of the customer's pocket. Brand Awareness has increased and consumers want to wear and explore more brands that not only satisfy their fashion quest but also deliver great comfort at affordable prices.
However, India still needs more awareness in terms of size. We still see women wearing the wrong size and are not able to derive the fullest from the brand they choose to wear. Correct size education is a must and as a brand, we feel it is our job to simplify it for our consumer. So we have detailed size charts that help our consumers to choose the right size.
The brand name itself Indicates that we provide Immense comfort and value for money. We Strive to meet the Diverse needs of our Customers by innovating And are committed towards offering fashion, Quality and comfort at an Unbelievable price.
About Bodycare Creations' association with Model-Actress Evelyn Sharma on Bodycare Inner Wear?
With factors like growing number of working women, changing fashion trends, rising information level and media exposure, and the foray of famous foreign brand in the Indian market, Indian women have become more conscious about the range of brands that should fill their wardrobes. The old practice of stacking lingerie in a corner of wardrobes no longer exists in the modern age. Rather, the taste of women related to their undergarments has reached new heights and it will not be a hyperbole to say that it has become a fashion statement.
In recent times men' innerwear industry has seen a plethora of celebrity endorsement from the biggest leading names in Bollywood. On the other hand in the women's innerwear segment there is just one brand that has dared to venture in this league by signing a modeling agreement with a celebrity and that is Bodycare".''Bodycare", the marked-label ' Comfort Forever' is a well known Innerwear brand to have roped in German Model & Bollwood Actress
Evelyn Sharma
as its Brand Ambassador for its inhouse Inner Wear brand BODYCARE.
How are you facing competition from domestic and international brands?
We are in this trade for the last 14 years and 'Bodycare' as a brand is well –established now with great consumer preference and a strong distribution channel. Besides we have a technically strong back up team in designs and production. All these factors have together made us competition. With a production capacity of around 15 million pieces per annum, and a dedicated team of 700 people and a dedicated team of 140 across India, we focus on offering consumers utmost comfort. Bodycare products are being used by various classes of customers but we as a company mainly focus on the aspirations of middle income group. We also plan to target upper and niche class of consumers. And have set up an additional production unit to help us boost our production capacity and expand our footprint in India as well as internationally.
"Consistent quality and innovative designs, value for money pricing with a wide and extensive distribution presence is our USP. We are among the top five lingerie brands in India and have complete production under one roof.
What are the core strengths of your company?
Consistent quality and innovative design, value for money pricing with a wide and extensive distribution presence is our USP. We are among the top five lingerie brands in India and have complete production under one roof. We have one of the largest plants of manufacturing in India. Our 1st priority is delivering quality products.
Give a peek on your latest collections?
It comprises of underwire, printed and seamless molded bras. Currently, molded bras are a huge hit as it does not have any seam and are comfortable to wear. Apart from this the colour pallet in our collection is bright and vibrant.
There are colours are bright pink, magenta, aqua, turquoise blue, deep purple etc. Another trend in terms of colour pallet is neon and florescent colour. We also plan to include these colours in our collection soon. Printed fabrics in innerwear are also doing well. Printed Bras and panties are an integral part of our latest collection.
We have introduced new models of seamless and regular women brassieres which give excellent results and on top of it we are under the process of diversifying into other apparels categories.
What is your retail strategy?
Our brand is sold through about 10,000 counters and in large formats like Stanmax and Carrefour. We are also into e-retaining and have robust distribution network that helps us reach consumers through various point of sale. Internationally, we export to Middle East countries and plan to expand our foot print internationally in the near future. We are concentrating on MBO's in the Indian domestic market.
What is your vision for 2020?
By 2020, the apparels market in Asia would be having a substantial global market share. So, Bodycare would venture more into the global market through joint ventures, technical collaboration strategic tie-ups with companies. There would be a bigger focus on serving the emerging organized retail sector to achieve growth for the brand.