News
Tuesday 25 Februray 2014
Bodycare unveils its new Corporate Campaign. its all about Loving Your Body.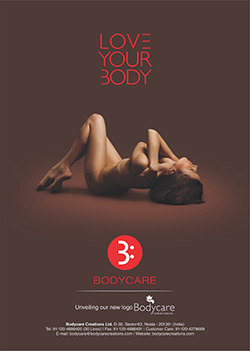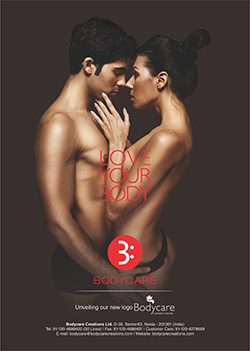 When 99% of the messages you receive about your body are that your body is not okay, loving it is a tough job. It takes an immense amount of mental work to think about your body in positive ways, to banish negative thoughts, to put your body first when work, familial, and social obligations say you should put it last.
This is where Bodycare Creations Ltd. campaign will play a major role. It highlights and celebrates every kind of body, making the job of loving your body easier. The term 'body' is the physical representation of humans. It is the basic form in which we are born, take shape in, grow and reach out for achievements. It is the body that stretches, exercises and relaxes to soothe the mind. Man has tested the endurance of his body through varied methods. Be it speed to beat, or heights to conquer, this vessel of humanity has been pushed to master its environment.
Campaign : Love your Body
This vessel of the ultimate human expression is what we seek to enhance with our products. While we enhance, we also provide comfort and support so that every human can strut with confidence and be proud of their body.
Sanjay Dawar expresses "This is why we have chosen 'Body' to be the core of our brand personality; because, we create products that define and celebrate the human body. We are committed to the goal of uplifting and rejoicing the human body with each of our creations. The human body would continue to be the centre of all our future ventures and activities from this day forward; to make merry its form and honor its smooth definitions with every stitch and square inch of fabric."
We end quoting Tyra Banks, "Humans of all kinds can be beautiful — from the thin, plus-sized, short, very tall, ebony to porcelain-skinned; the quirky, clumsy, shy, outgoing and all in between. It's not easy though because many people still put beauty into a confining, narrow box … think outside of the box … pledge that you will look in the mirror and find the unique beauty in you."